Return
Light art porter's lodge Graphic Workplace 's-Hertogenbosch May 2008
'Origin' was developed for the porter's lodge. An installation that has much in common with the monumental work 'Breathing Cloud' from 2007.
In the historic inner court of Het Kruithuis in 's-Hertogenbosch, a luminous inflatable enclosed by a greenhouse was exhibited. In the entrance hall of the Willem II factory the enclosed, secure inner space of the porter's lodge is also used to good effect. Passers-by are invited to ponder for a moment on the transition from one space to another: from inside to outside, from outside to inside.
A Wonder of light and air
'A white ball filled with air gently floats in blue light. It moves, it breathes. Like a cocoon of peacefulness, it is suspended in the space of the porter's lodge of the old cigar factory of Goulmy and Baar.'
'Encountering her work is a confrontation. Some will find it eerie, others will see it as a moment of peace and reflection. Come to oneself for a moment, free of the trivialities of life. The light, movement and sound of a deep, intense breathing are an experience in itself.'
'The object, gently floating behind the glass of the porter's lodge, emanates security. She feels akin to these delicate, moving objects, and likes to hold a mirror up to her audience's face.'
Mary van Erp, Brabants Dagblad, May 8, 2008.
Graphic Workplace Den Bosch
Boschveldweg 471
5211 VK 's-Hertogenbosch
Opening hours: Thursdays through Sundays,1 to 5 p.m.
+ 31 73 6134277
www.gadenbosch.nl
See the archives of the porter's lodge, May 2008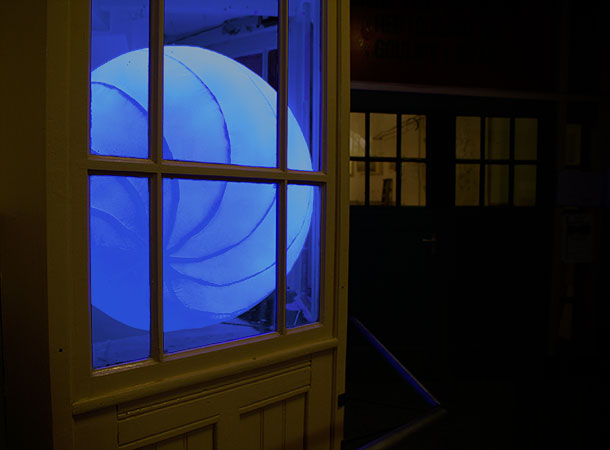 ---