Return
LICHTBADEN with Breathing Cloud
On the invitation of CBK Amsterdam Polderlicht foundation organise the light art exhibition LICHTBADEN (Light Baths). Containing seven contemporary monumental lighting installations, including Breathing Cloud, invite each in their own way for contemplation.
The artworks are all characterized by movement - nice loom or a hypnotic rhythm. You can sit in one of the one hundred comfortable beach chairs and stretch out, lie 'light bathing' in front of, between and under the light art. LIGHT BADEN offers a moment of calm in an increasingly hectic world. LIGHT BADEN shows interpassive art.
With works by: Nicky Assmann & Joris Strijbos | Lola Bezemer & Yuri Suzuki | Leslie Nagel | Mike Rijnierse & Rob Bothof | Dorette Sturm | Gabey Tjon A Tham | Jonas Vorwerk
From November 7th, 2015 through January 9th, 2016
Wednesday / Saturday from 16:00 to 22:00
CBK Amsterdam, Orange Vrijstaatkade 71, Amsterdam-Oost
Closed December 23, 2015 through January 2, 2016
LIGHT BADEN opens on Saturday, November 7th from 18:00 to 20:00.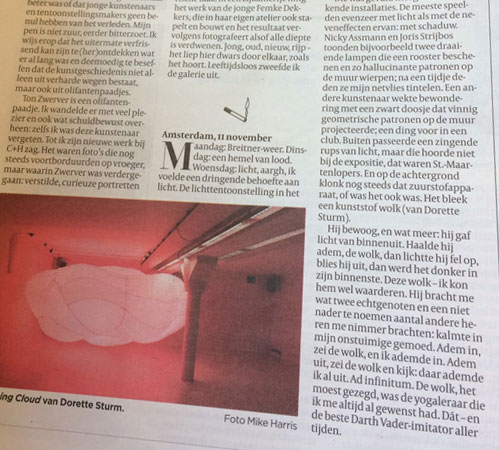 ---